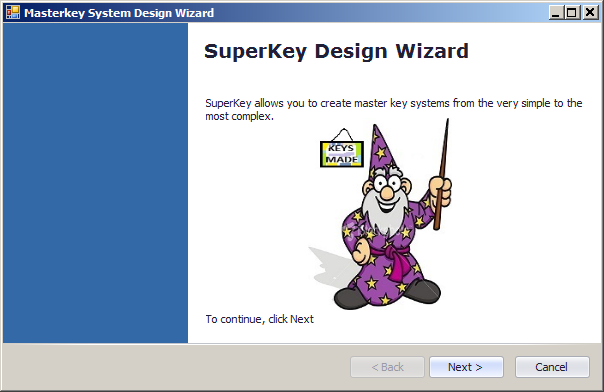 SuperKey Can Create Master Key Systems For Most Lock Brands on The Market
▪ Create master key systems for both removable core (IC) and conventional locks. ▪ The Design Wizard makes designing master key systems fast and easy. ▪ Enter every detail directly or let the Design Wizard randomize any or all of the parameters. ▪ Design master key systems for most lock manufacturers including Medeco™ and Assa™. ▪ Recreate most factory or competitor master key systems.
SuperKey9™ Design Wizard Quick Highlights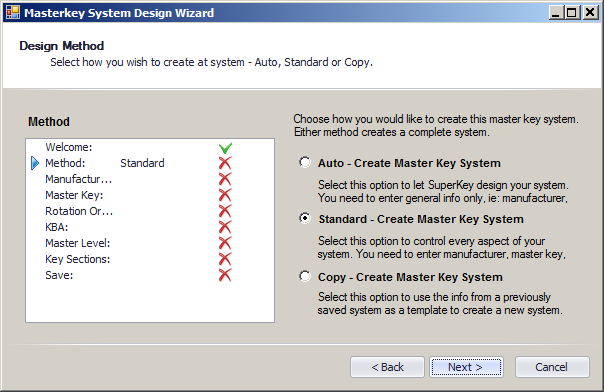 Method Page
Enter every detail manually, auto create or copy a previously created system. The design wizard let's you decide.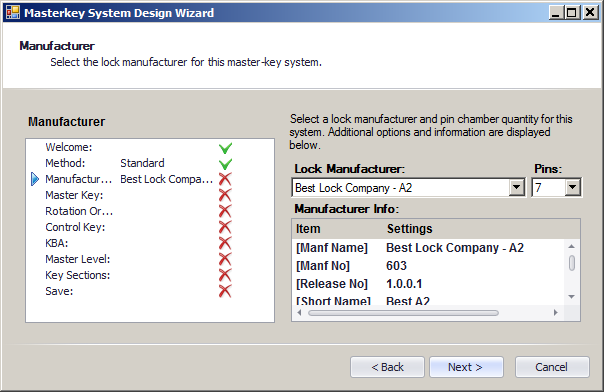 Manufacturer Page
Choose from a list of built-in lock manufacturers and number of pin chambers for the system. The manufacturer's details are displayed for review. Customize or add manufacturers.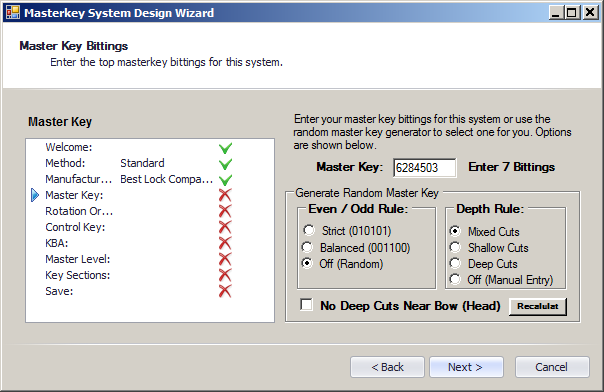 Master Key Page
Enter any top master key either new or from an existing master key system. Or, let the design wizard randomize one using the options on the master key page by selecting one or all of the options.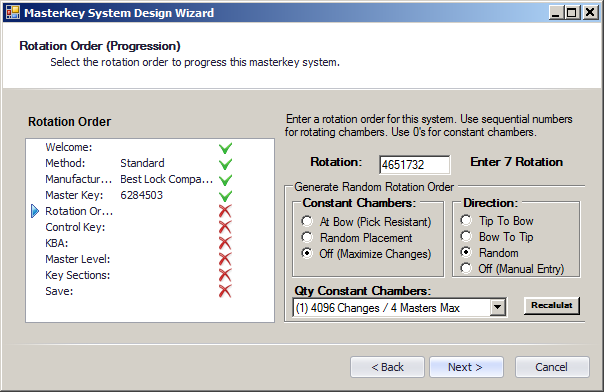 Rotation Order Page
Rotate the pin chambers in any order or hold one or more as constants. Having full control of the rotation order allows you to recreate factory or competitor created master key system.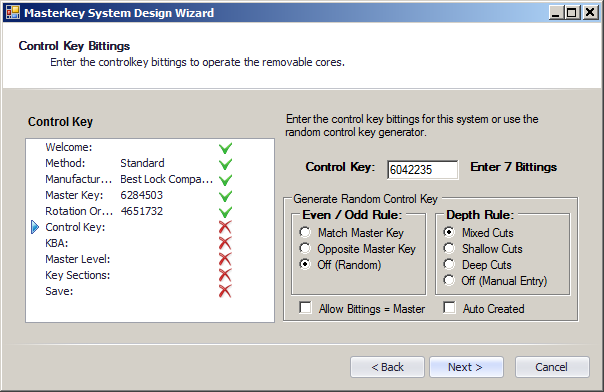 Control Key Page
Enter any control key either new of from an existing master key system. The design wizard follows all manufacturer rules for control keys. Some rules can be bypassed when recreating competitor created master key systems.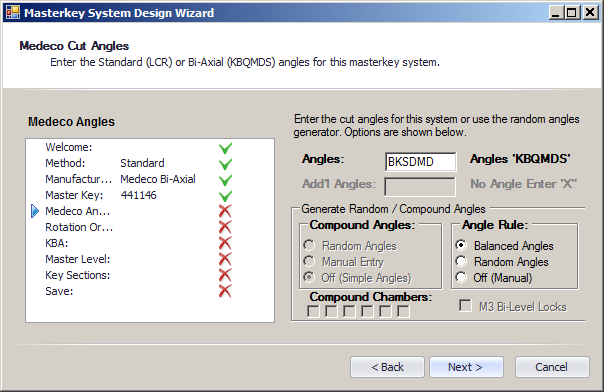 Medeco Angles Page
For Medeco systems useing angled cuts in their locks. SuperKey supports both the older angles L-CR and Bi-Axial angles having Fore and Aft cuts for each bitting depth.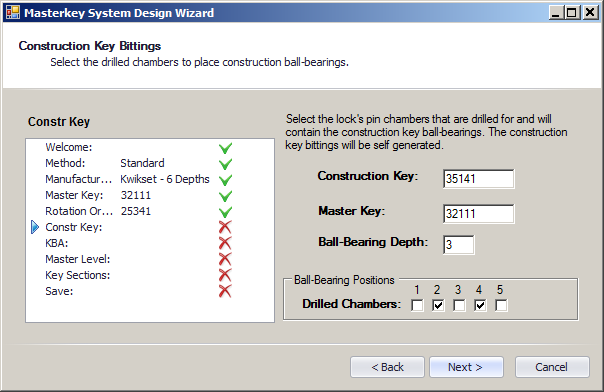 Construction Key Page
For locks supporting construction keying. SuperKey computes which pin chambers can be used for construction keying based on the master key entered. Simply check the pin chambers that will be construction keyed. A construction master will be automatically created.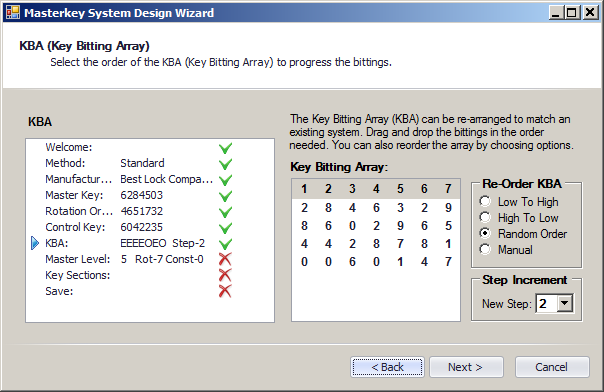 KBA (Key Bitting Array) Page
The key bitting array can be arranged in any order with drag and drop. Being able to arrange the key bitting array allows you to recreate a factory or competitor created master key system.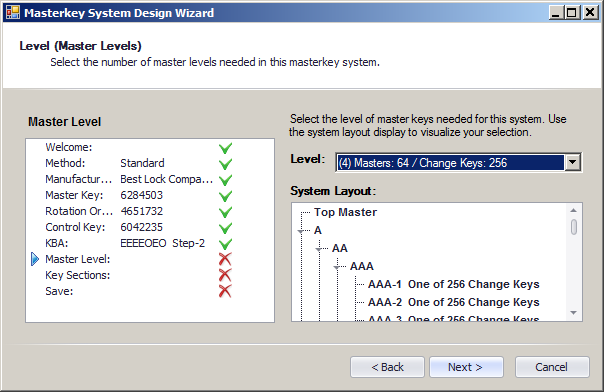 Master Levels Page
Select the level of master keying for any system. Five pin systems can have up to three levels, six pin up to four levels and seven pin removable core systems up to five levels. All master level options are displayed to help make the choice.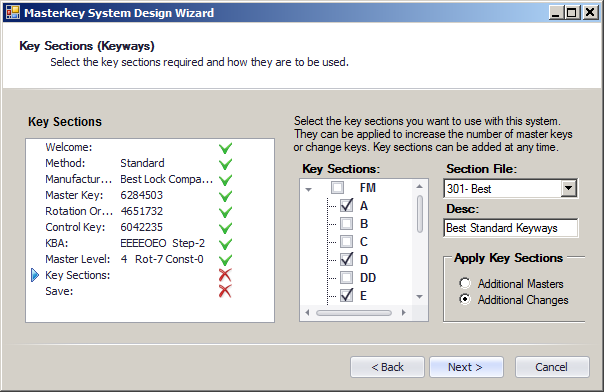 Key Sections Page
Add one or multiple key sections (keyways) to a master key system. Sections can be added or deleted at any time.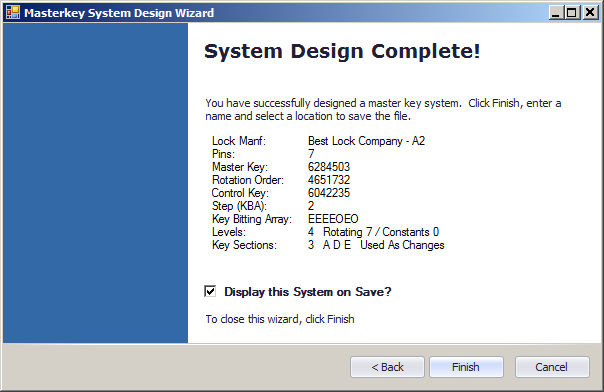 Save Page
Save master key systems any where on a local or networked computer.